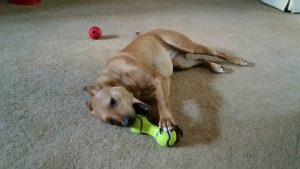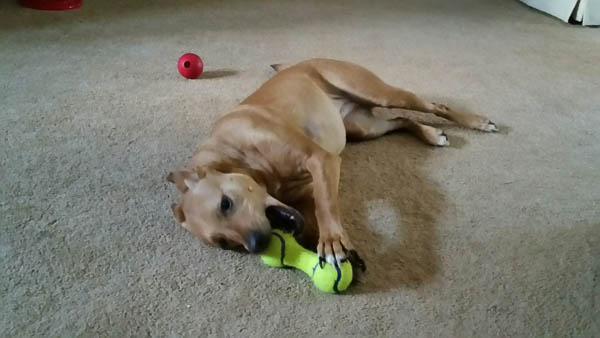 To my friends at the Parma Animal Shelter,
Hi. My name is Loxie. I used to be called Keno when I stayed with you, but my mommy helped me pick a new name to start my new life. My new mommy is helping me write this letter.
I have a nice house with a big yard and lots of couches. There are 3 big comfy couches for me to sleep on. Mommy and daddy got a crate for me to sleep in if I ever need time alone, but I always find a quiet place to sleep. My favorite place is my comfy doggie bed in my daddy's office. I keep him company when he works so he won't be lonely. I also sneak into bed with him when mommy leaves for work. Daddy says I snore. When my mommy comes home from work I am so excited, that I jump all over her and give her lots of kisses. My mommy said we will have to work on teaching me not to do that, but I am so happy to see her, I can't control myself! I also like sitting and watching TV with my mommy in the evening. There isn't much room left for daddy on the couch.
My parents buys me lots of toys and treats. My favorite toys are the squeaky ones. I love to play catch. I have a small swimming pool to play in, but I have not tried it yet. I don't know if I like playing in water. I would rather look for deer and rabbits in the yard and bark at them.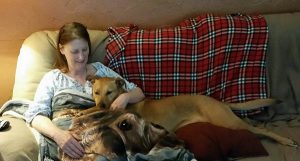 I met my Aunt Tracy and my next door neighbor Sam. I was a little scared at first, but they are my friends now.
When I was at the shelter they told my mommy and daddy that I was shy. I wasn't really shy. I just pretended to be until I found the people I wanted to go home with. I even knew how to "sit" and walk on a leash. I kept that a secret when I was at the shelter. I had to be sure I picked the right family for my furever home. My mommy and daddy didn't want a baby dog. They wanted a big grown up girl like me. I knew they were the right family when I met them.
Thank you to the nice volunteers who took such good care of me and made it possible for my mommy and daddy to take me home. They love me very much, and I love them too!
Love,
Loxie