Pizza Bake Off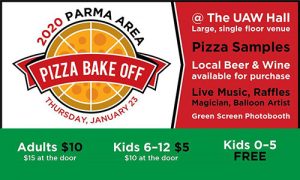 THURSDAY, JANUARY 23 – The Young Professionals of Parma is excited to host the Parma area's second annual Pizza bake off! Come inside from the winter cold and enjoy sampling pizza from the area's array of local ovens. Then vote for the best slice!
Tickets include a sampling of pizza from the Parma-area's top pizza shops and one pop or water. Beer and wine will also be available for purchase.
Adults – $10 / $15 at the door
Kids 6-12 $5 / $10 at the door
Kids 0-5 FREE
A 50/50 raffle and a beer tower will also be available for a chance to win cash and a selection of brews.
Chow down for a good cause as a portion of proceeds benefit the Parma Animal Shelter.
WHAT YOU GET
Sampling of Local Pizza
Free Pop
Live Music
Vote for Your Favorite Shop
Beer and Wine for Purchase
50/50 and Beer Tower Drawings
HOW IT WORKS
Enter Your Real Life Pizza Dream
Enjoy Some Pizza
Rest, Listen to the Band, Have a Drink
Eat More Pizza
Use Tickets to Vote for Your Favorite Shop
Most Important: Have Fun!😁