Rummage Sale
Friday, Dec. 3rd from 9AM – 5PM
Saturday, Dec. 4th from 9AM – 3PM
Brooklyn Trinity UCC Church
8720 Memphis Avenue, Brooklyn
Last Sale of the Year!
Join us in support of Parma Animal Shelter – lots of bargains.  This is another sale by Priscilla which includes tons of pet supplies and household goods, decorating items and more – ALL new or gently used.  Also, refreshments and goodies will be sold with those proceeds going to the church.  We appreciate being able to have an inside sale.
Dine to Donate
PARMA ANIMAL SHELTER IS COMING TOGETHER WITH ROMEO'S PIZZA IN PARMA FOR THE FIRST TOY/ FOOD DRIVE! IT RUNS FROM DEC 1ST TO DEC 20TH AND ON THE LAST DAY IT WILL BE FOLLOWED BY A DINE TO DONATE.
PLEASE BRING UNWRAPPED CAT AND DOG TOYS, TREATS, PENS, GARBAGE BAGS, PAPER TOWELS, BLEACH, BLANKETS, CLAY KITTY LITTER, CANS OF PURINA PRO-PLAN, SHELTER BEDS AND ANYTHING ANIMAL RELATED TO PARMA ROMEOS FOR UNWRAPPED DONATIONS TO THE SHELTER.
DINE TO DONATE WILL BE HELD ON DEC 2OTH
Romeo's Pizza, 7452 Ridge Rd. (Ridge at W. Pleasant Valley) in Parma.
BE SURE TO MENTION PARMA ANIMAL SHELTER ON THE 20TH.
Treat yourself to Romeo's on DEC 20TH, and tell them you're there to support Parma Animal Shelter! They'll donate 20% of proceeds from that day to all shelter visitors!
2nd Annual Pasta Fundraiser
Support our 2nd Annual Pasta Fundraiser (Nov 19-Dec. 31)  Choose from a wide selection of pastas, soups, chilis and more!  Order online and have it shipped directly to you.
Thank you for supporting the Parma Animal Shelter.  40% of your order goes towards our fundraising goal.
For Christmas Delivery for Online Orders:  Place your order by noon on 12/15 with FedEx Ground $10.95 to receive your shipment by 12/24.
Note:  Due to Covid, delivery times not guaranteed.  If you choose Smartpost $7.95 – allow at least 10-15 working days for delivery.  Orders received after 12pm on 12/15 will be shipped the week of January 3rd.
Home for the Holidays
REDUCED KITTEN FEES UNTIL DECEMBER 30TH!
1 kitten – $80
2 kittens – $120
SEARCH CATS
Grounds for Hounds Coffee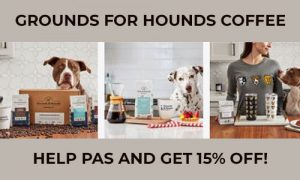 Parma Animal Shelter (PAS) is now part of the Grounds for Hounds Coffee Company's Ground Crew just in time for your holiday shopping.  Every pound saves a hound! You can order Grounds for Hounds coffee, apparel, mugs or gear merchandise online and receive a 15% discount using our code: ParmaAS with a portion of the proceeds going to the shelter.
Use this link so the code will be auto-applied when you shop: https://groundsandhoundscoffee.com/discount/ParmaAS
The Grounds for Hounds Coffee Company, through the sale of their organic and eco-friendly specialty coffees, support rescue initiatives and organizations providing a second chance for pups in need of a helping hand.