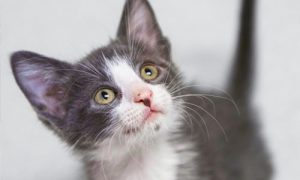 Wait and Watch: The mother offers her newborn kittens their best chance for survival so wait and watch as long as you safely can for her to return before removing them. Mom's may be gone as long as 4-5 hours to get food. Also, be aware if you find a single kitten please wait at a safe distance as the mother may be moving the kittens to a safer place which may take some time when moving several kittens one at a time.
If mother cat returns: If mom returns and the area is relatively safe leave the kittens along with mom until they are weaned. You can offer a shelter and food for mom, but keep the food and shelter at a distance from each other because mom will find the food but will not accept your shelter if the food is nearby because she will not want to attract other cats to food located near her nest.
If mother cat does not return: If you discover that mom has been hit by a car or if for any reason, it appears that she is not coming back then you should rescue the kittens. This is crucial to the kitten's survival, but you must be prepared to care for the kittens if you do. They need to be kept warm (75-80 degrees) fed KMR which needs to be warmed before given by bottle every 2 to 3 hours. Also, they will need help going urinating and defecating if under 3 weeks old. This will need to be done for them till they are about 4-5 weeks old and can eat on their own. If you cannot care for them please bring them to a shelter in your city.