Parma Animal Shelter News & Events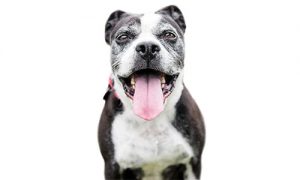 To continue our goal of appreciation, placement, wellness, provision, prevention, and education, the Parma Animal Shelter hosts and promotes a variety of events to help our shelter animals and to raise funds for our behavior, medical, and other programs. We thank everyone who continues to support the shelter through attendance, donations, and partnership . . . you help us make a difference for shelter animals!
---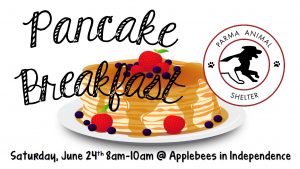 Paws Up for Pancakes!
Join the Parma Animal Shelter for a Pancake Breakfast at Applebees in Independence on Saturday, June 24th from 8am-10am! All proceeds will benefit the shelter!
Tickets are just $12 for adults and $10 for kids 12 and under.
Tickets can be purchased at the Parma Animal Shelter or online here: https://www.eventbrite.com/e/parma-animal-shelter-pancake-breakfast-tickets-34872455453?aff=es2. ALL TICKETS MUST BE PURCHASED BY 6/22!
Ticket price includes pancakes, bacon, potatoes and a beverage choice (coffee, tea, juice or milk).
Applebees is located at 4191 Rockside Road, Independence OH.
---