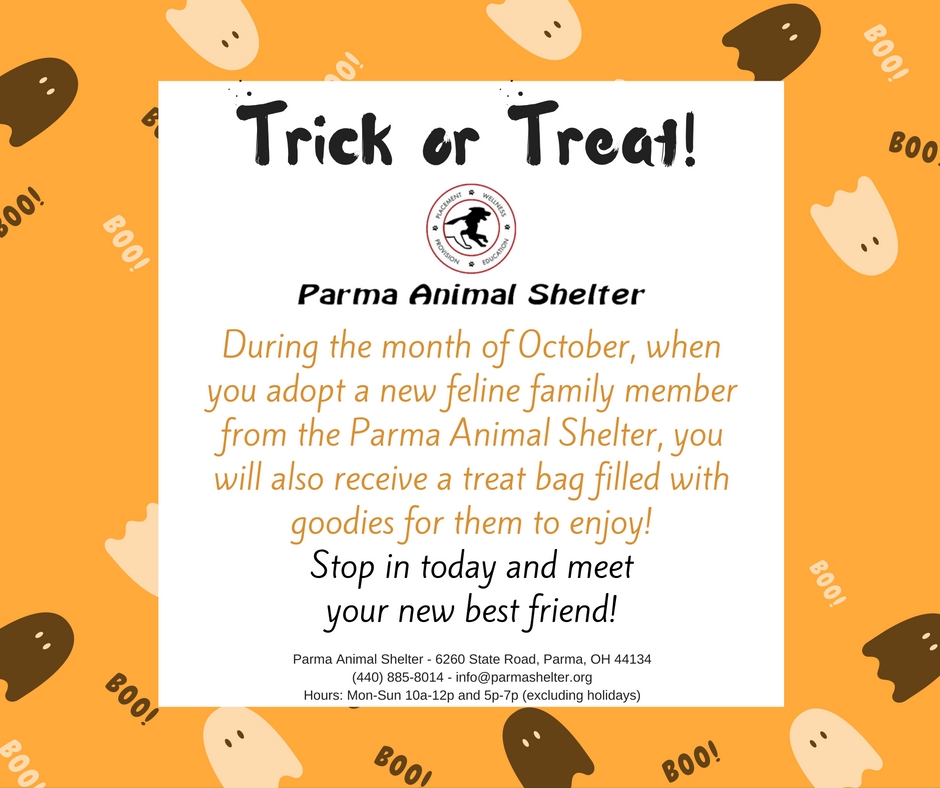 Trick or Treat!
During the month of October, when you adopt a new feline family member from the Parma Animal Shelter, you will also receive a treat bag filled with goodies for them to enjoy!
Stop in today and meet your new best friend!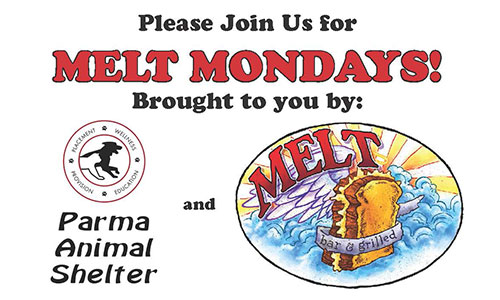 Join us at Melt Bar and Grilled in Independence on the November 21st from 11am – 10pm and 20% of food & drink sales will be donated to Parma Animal Shelter!
More Details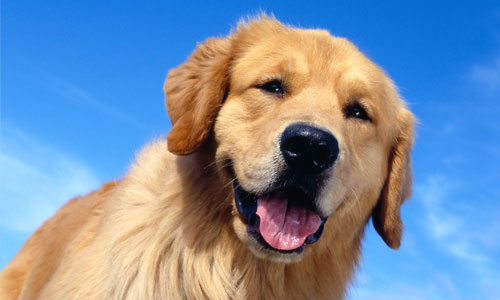 Adoption fees are: Puppies, 6 months and under – $180.00; Small Dogs, 7 months to 7 years (25 lbs. and under) – $180.00;
Click HERE
to view the full list of adoption fees.
Search Dogs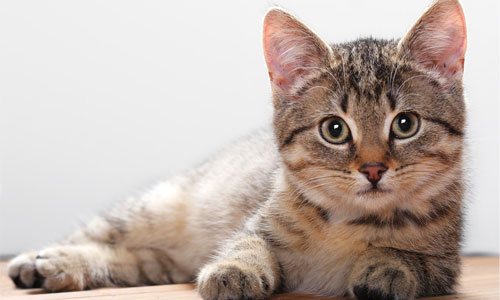 Adoption fees are: Kittens 6 months and under – $75.00; Adult cats 7 months through 7 years – $50.00; Senior cat 8 years and older – $25.00.
Search Cats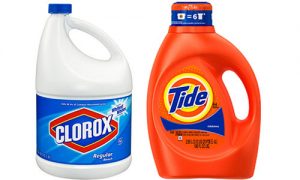 URGENT NEED!
We are in urgent need of the following items:
Clorox unscented bleach
Any brand High Efficiency liquid laundry detergent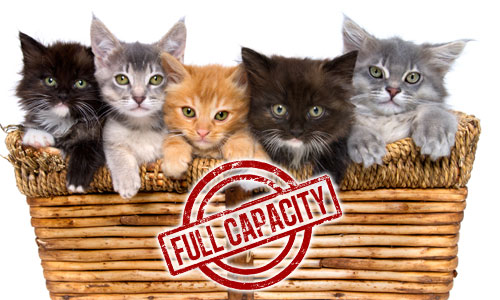 URGENT NOTICE TO THE PUBLIC:  WE ARE CURRENTLY FULL TO CAPACITY AND CANNOT TAKE IN ANY ANIMALS AT THIS TIME
If you find a cat or dog, please contact Animal Control at (440) 885-8010 or email at safetydepartment@cityofparma-oh.gov.  If you have an owner surrender, please call the shelter to make an appointment with the appropriate Health & Welfare chair people.
Thank you for your understanding and patience.
Parma Animal Shelter
Board of Trustees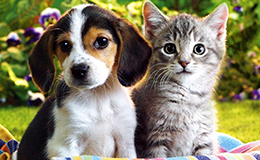 Adopt a pet from PAS! Adopting a pet from the Parma Animal Shelter can be very rewarding!

Consider becoming a Parma Animal Shelter volunteer! There are many opportunities to choose from.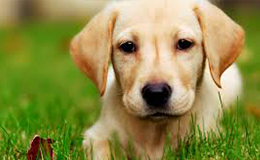 Donate to the Parma Animal Shelter, a 501(c)(3) organization. The shelter is 100% volunteer-run and relies on donations and grants.